The CABBS Optimist Pram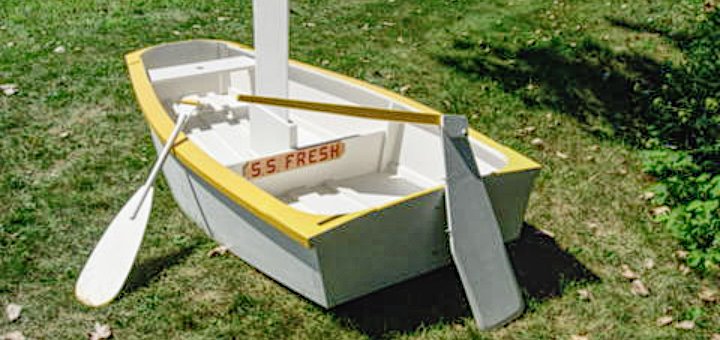 No other boat in the world has surpassed the popularity of the Optimist Pram as a sail trainer for kids. Over 400,000 have been built worldwide since Clark Mills designed the boat in 1948. It is estimated that 60 – 70% of the USA Olympic sailing team members, first learned to sail in an Optimist.
The CABBS Optimist is a perfect introduction to both boatbuilding and sailing.
It is a great adult/child project that will create lifetime memories. The CABBS boat is plywood on frame construction and assembled with construction adhesive and screws. Simple and quick to build with common hand tools, it can be crafted in 40 – 60 hours. The boat weighs approximately 65 lbs.
The CABBS Optimist Plans
The CABBS Optimist plans are based on plans published in an early 50's boating magazine and were drawn in 2006 to support the CABBS WHISTLE youth boatbuilding program on Cleveland's Lake Erie waterfront.
The plans include nine 18″ X 24″ sheets of drawings covering every part of the boat. The construction jig and boat components are fully dimensioned. A four page assembly text recommends materials and walks the reader through the assembly process. The CABBS Optimist plans are sent by US mail rolled in a tube. Cost is $35 USD domestic mail, or $40 USD international. Proceeds from the sale of the plans help to support CABBS youth boatbuilding efforts.
How to Order
Click the link below for the CABBS Optimist Plans Order Form. Fill out the form, include your check or money order and mail to the address on the form. Allow 14 days for processing. You will be informed by email of the shipping date. Download the CABBS Optimist Plan order form.
Building a CABBS Optimist
Yes, you can do it! Take a look at a series of construction photos from
Frank Manley's build. The photos cover the jig, the frame, the panels, and finishing the hull.
Frank Manley's CABBS Optimist
  Need some inspiration to take the first step? Take a look at
OSPREY, a CABBS Optimist built by 11 year-old Alastair of Inverness, British Columbia.
OSPREY, CABBS Optimist by Alastair
New Englander Roger Cortesi shot a time-lapse video of his family building a CABBS Opti. It's a great demonstration of the building steps.
Roger Cortesi Opti Build Video
---
Even more information
Want to learn more about building an Optimist? Here is a great site that compiles just about anything you wanted to know about building an Opti.
http://woodenoptimist.blogspot.com
Optimist Racing
Although the CABBS Optimist is true to Clark Mills' objectives and fun to sail, it will not meet the measurement requirements for sanctioned racing competition under the International Optimist Association.