Seventy Years Later, the Boat He Designed is Finally Getting Built
As a hobby Henry Wischmeyer drew  plans for small boats of his own design.  This interest likely grew from being around boats on the Lake Erie beach behind his family's small summer hotel on Lake Road in Bay Village.  He also built  highly detailed models of small boats that populated the Lake Erie waterfront.  Henry died in 1958 and today, his boat designs and models are part of the Bay Village Historical Society collection.
An overhead mock-up of the Wischmeyer Pram was tested in December to be sure the boat could navigate the North Coast Harbor Marina channel and make the right-angle turn at its end.
While recently going through the Wischmeyer boat plans collection, CABBS member Ed Neal discovered  plans for a 10ft "utility pram" drawn in 1953 that could answer the need for a clean-up boat at North Coast Harbor, the inner harbor area behind the Rock-n-Roll Hall of Fame, the Great Lakes Science Center and the William G. Mather museum ship.   One corner of the harbor traps floating debris in a narrow channel that  can only be removed through a laborious process.
Paul Herrgesell tows the Wischmeyer Pram mock-up through the debris field trapped in  North Coast Harbor to be sure it can make the right angle turn.
CABBS learned of the debris issue through students of the Davis Aerospace & Maritime High School, a Cleveland public school at E13th and Lakeside.  Two students in the after-school boatbuilding club operated by CABBS suggested building a boat that could address the clean-up problem.
In October, 2022 CABBS won a John Gardner grant from the Traditional Small Craft Association to build the Wischmeyer Utility Pram.  The boat will work in conjunction with the Port of Cleveland's two large harbor clean-up boats, FLOTSAM and JETSAM.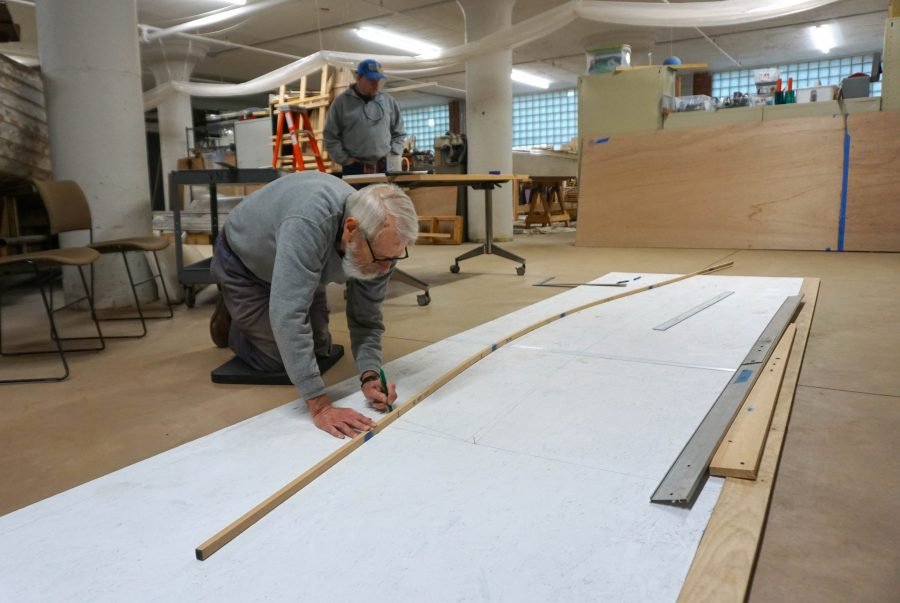 At the CABBS workspace, Dave Weglicki works on the full-size drawing as Paul Jira assists.
Currently,  CABBS is lofting the boat to drawn up full-size plans and anticipates a mid-April start to construction.  Students from the Davis Aerospace & Maritime High School boatbuilding club will be part of the building crew.  A June-July launch is anticipated.
Interested?  Want to help out or just stay in touch?  Contact Ed Neal at cabbsmail@gmail.com