Tom Wareham: Marine Surveyor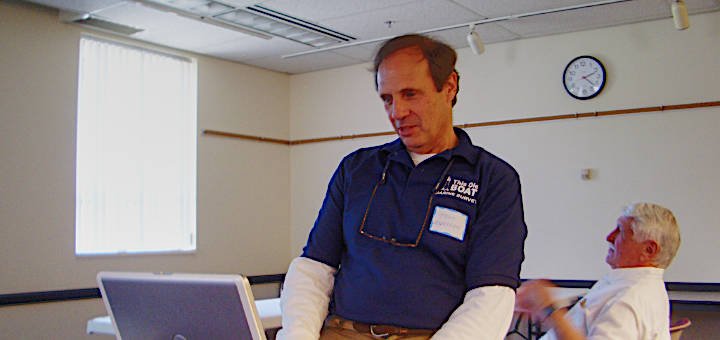 Before you defer your boating opinions to someone who calls himself or herself a marine surveyor consider this. The profession of marine surveyor is unregulated and does not require a license. If you can afford business cards you too can be a marine surveyor. Tom Wareham brought up this disturbing fact as he went over some of his qualifications, training, and personal background.
Tom operates his business in the south shore Lake Erie area extending from Sandusky on the west to the Warren area in the south east. Although he has been at the profession full time for only three years, he is a US Coast Guard licensed captain to 50 tons, a lifelong sailor, and quite importantly, a graduate of the Chapman School of Seamanship – Marine Survey.
A marine survey is most easily thought of as an impartial inspection of a vessel noting its positive and defective aspects. The survey typically approaches the vessel as a collection of systems operating in a hostile environment.  It presents an evaluation on the condition of each system.
Surveys are performed to establish the boat's condition and value for different audiences.  The cost of the survey is based upon the amount of time spent gathering the information. A prospective buyer may want very detailed documentation on each system and want detailed tests on the engine. On the other hand, a bank, may want only to know the fair market value for a loan package. An insurance claim may require yet another way of looking at the boat. A typical charge might be $15/ft. for a documented survey.
When selling a boat, Tom encouraging people to prep their boat as they would when selling a car. Clean it out and clean it up. He is surprised how often he has to operate in a cockpit strewn with dead leaves and raggedy tarps and go below to find inches of water and floating boat cushions. As Tom stated in his wrap up, buying a boat is an emotional experience and the cleaner and more attractive the boat, the faster the sale will close. When someone wants a boat, they want it now. but let Tom get in there and look things over first.
You can reach Tom at 1-800-317-5780.