CABBS at the Seventy 48
Congratulations to three CABBS members, Henry  Billingsley, Paul Herrgesell and Ed Neal who entered the Seventy48,  a race for human powered craft that starts in Tacoma, Washington, progresses north through seventy miles of Puget Sound and ends in Port Townsend.  Participants have to complete the course in 48 hours.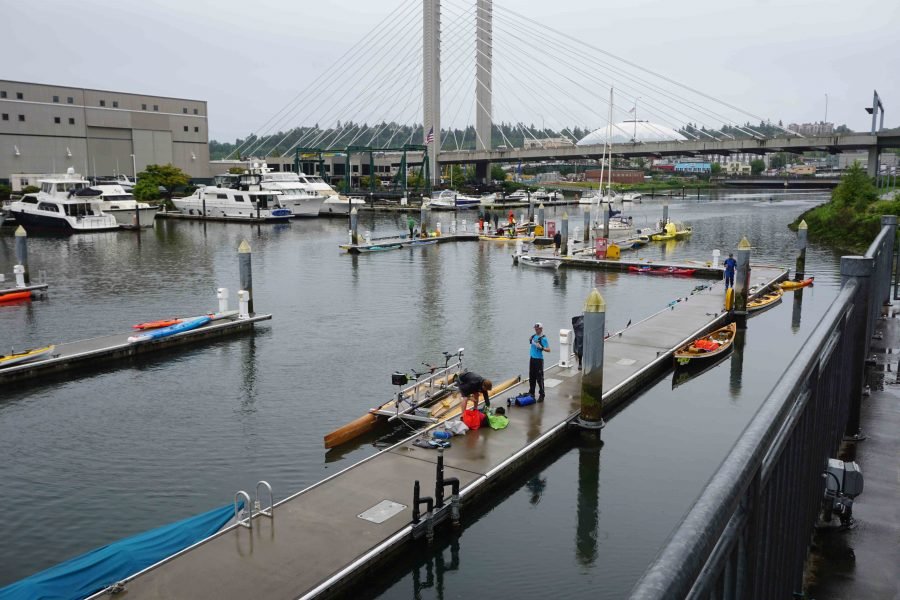 Racers prep their boats in the hours prior to the start in Tacoma.
116 boats participated this year, less than ten were from east of the Rockies.  The race started at 7 PM on June 10 and most teams rowed through the night as did the CABBS members.

Paul Herrgesell in TRESHER practiced a few days ahead of the race in Colvos Passage, one section of the course.
Paul Herrgesell rowed TRESHER, an 18 ft. Angus Expedition rowboat he built over the winter.  He completed the race in 19hrs. 11 min. and placed 30th among the finishers.   Paul rowed a very disciplined race.  He established waypoints on his GPS and rowed compass bearings from waypoint to waypoint.

Henry Billingsley takes a turn at the oars near Point No Point little thinking in two hours the weather is going to make a dramatic turn.
Henry Billingsley and Ed Neal rowed TAMO, a 14ft. Cosine Wherry they built over the past two years.   In their boat only one person can row at a time and they had to come to shore to switch positions about every hour and a half.  They had completed 54 miles of the course  in 22 hours when the weather changed and they became windbound on a tidal beach with 1 – 3 ft waves and whitecaps.  They withdrew from the race for the safety of Port Ludlow Bay.  There they tied up the boat  for the night in a marina.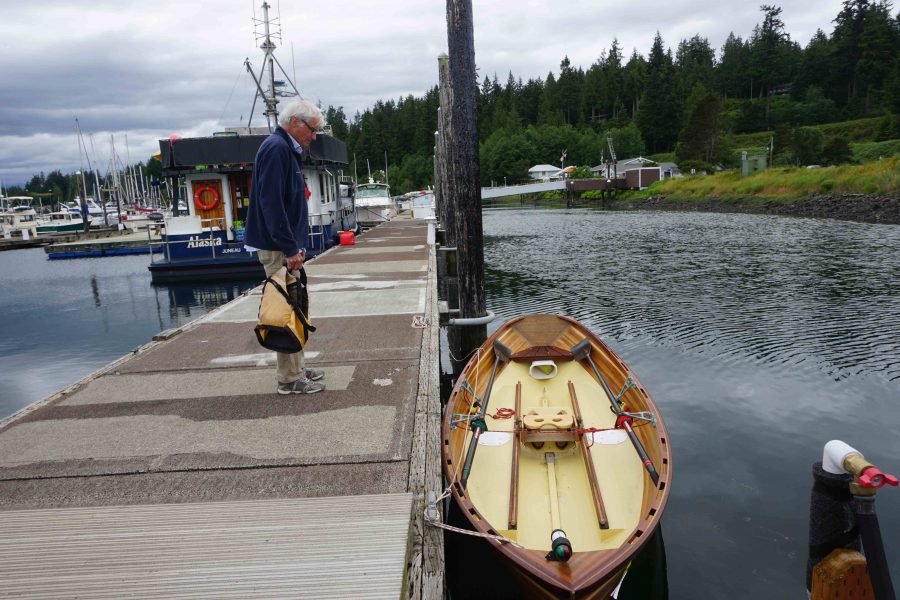 Ed Neal tucks TAMO in for the night at the Port Ludlow Marina.
Hats off to  Paul, Henry, and Ed for taking up the Seventy48 challenge!  Well done!  Now get some rest!